When a building collapses it gets noticed. It has been a while since Americans woke to the shocking news of the collapse of the 12-story Champlain Towers South beachfront condominium in Surfside, Florida. Following the collapse, Miami-Dade Mayor Daniella Levine Cava ordered all buildings over 40 years old to undergo an "immediate" audit on their structural well-being.
As a result of this, the city of North Miami Beach ordered the evacuation of more than 300 residents of the 10-story Crestview Towers Condominium. After reviewing an engineering field study dated Jan 11 of the 156 unit building it deemed the building structurally unsafe. The building inspection report found both structural and electrical issues.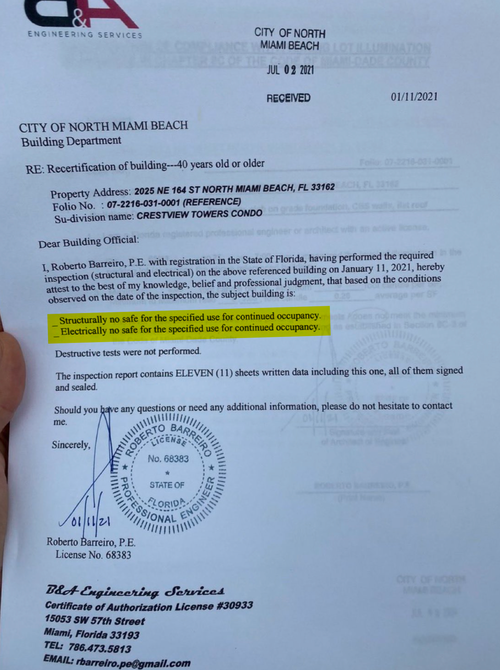 A Bad Structural Report Is Poison
This is the first major residential structure to be closed after the June 24th Surfside tragedy but with officials on edge it may not be the last. City Manager Arthur H. Sorey III said in a news release. "In an abundance of caution, the City ordered the building closed immediately and the residents evacuated for their protection, while a full structural assessment is conducted and next steps are determined,"

What escapes most individuals is the economic implications of this new, shall we call it, development. This is a massive ball crusher for all those that have sunk a good deal of their wealth into such buildings. If in coming years more buildings begin to collapse this will change the value of certain types of buildings in a way most people never thought possible.
After the collapse of Champlain Towers, fears began to spread up and down Miami as residents who own condos in aging buildings grew concerned engineering audits could bring to light millions of dollars in repairs that would jack up homeowners association fees. The audits could also cause an evacuation of their building, and spark a liquidation fire-sale as owners of older condos rushed to sell ahead of new regulatory action.
When special repairs are needed and the funds are not available a special assessment is levied against the owners of all the units in a building. These can be quite sizable, a great example of this can be found in a 2007, Boston Globe article. It reported how the owners of units in Harbor Towers in Boston faced special assessments of $70,000 to $400,000 after the board discovered $75 million in repairs were needed on the then-36-year-old building.
Imagine a scenario where the cost of repairing and addressing serious issues could easily exceed the original cost of the entire building. With construction costs surging because of both higher material and labor costs this is often the case. This means the value of units inside reinforced concrete high-rise condos can rapidly adjust to the results of inspections. This is especially true when they reveal structural weaknesses. Such aging structures exist all across the nation and the world. The risk noted here will without a doubt, in the future, be reflected in higher insurance costs.
Many People Died, Issue Of Safety Increased
The Champlain Towers South collapse is likely to make it more difficult for buyers to get mortgages to buy such properties.
Any structural weaknesses will impair the creditworthiness of the units, limiting owners' ability to borrow the money needed to pay for potentially burdensome repairs. Also, owners that cannot afford the repairs, fear the building is unsafe, or that have little equity in their unit are likely to abandon their unit rather than pony up their share for repairs.
These abandoned units would then become very difficult to sell and many could revert to the control of the condo association making the other owners in "good standing" responsible for funding the unit's share of the repair bill. In a situation where enough owners abandon their units, at some point, the only option is to surrender the unrepaired building to demolition. This eliminates the liability of it collapsing and damaging other structures or injuring others.

When it comes to the unknown regarding the seriousness of the damage and the liabilities of every entity involved in the assessment, plans, insurance, and execution of the repairs, it is very easy to underestimate the costs of repairing structural damage in high-rise buildings. Then there is the issue of whether the course of action chosen to repair the problem will be effective.
A whole other issue is just how good these inspections are, not all inspectors are created equal.
When it comes to a major structural problem in these types of buildings, the risks are very real and few contractors and architectural engineers are willing to take on the liability that comes with them. It is said success has many fathers and failure is an orphan.
The fact is, when all is said and done, nobody wants to be associated with a building that kills its residents as it crumbles into dust.
There are about 160,000 condominium buildings in the United States. The Community Associations Institute, an umbrella organization for resident-owned buildings and developments, reported last year that 80 percent of associations faced unplanned repairs during the preceding three-year period. A major reason this has not been a major issue until now is that property values in many places have continued to rise despite the growing backlog of maintenance needs.
As the title of this article states; when buildings collapse it gets noticed. If in the near future we witness another collapse similar to that which occurred in Surfside this issue will move even more into the forefront and be a huge wake-up call for condominium owners on the true costs of cost of their units.
(Republishing of this article welcomed with reference to Bruce Wilds/AdvancingTime Blog)