Apple Like Tesla Has A Cult-Like Following
Recently Apple threw its hat into the ring when it announced its intention to move forward with developing self-driving car technology.
It should be noted that when a company with the market cap of Apple and a great deal of money decides to move into the auto industry it can buy all or most of a struggling automaker. This would give them an instant production capacity. This means Apple can rapidly jump into the EV market.
According to Reuters, Apple is targeting 2024 to produce a passenger vehicle. Make no mistake, this has the potential to derail Elon Musk's plan for Tesla to put out a million robotaxis. This places Apple in the position of competing with others with major self-driving projects, including Tesla and Google/Alphabet's Waymo project which stands for a new way forward in mobility. Google started working on a self-driving car several years ago but so far has little to show for its effort.
Apple seems very interested in pushing its way into this sector of the economy. Adding to the validity that Apple is serious about moving in this direction, Reuters also reported Apple's cars might include sensors and a new "monocell designed battery" that has been developed internally at Apple. Such a battery could be a much-needed breakthrough in battery technology. The lack of better batteries is one of the biggest problems currently facing the EV industry.
All EV manufactures are seeking new battery designs that could "radically" reduce battery cost and increase a vehicle's range. A better battery has been seen as the Holy Grail of the EV industry. While some people point out Tesla has been moving to improve its batteries the same could be said about all these companies. More efficient motors in these vehicles are also important. The Toyota Prius also uses IPMSynRm Motors such as used in the Tesla Model 3.
An interesting question was put forth in the form of a comment on another webpage: How many of the 499,550 Telsa's sold in 2020 were to straw buyers? and of those, how many will be dismantled and have their parts recycled back into 2021 models? This comment suggests that some people and investors forget how numbers can be fudged and Tesla has a great incentive to do such a thing. The company is in a self-feeding loop and so overvalued that it can afford to buy its cars and ship them to the bottom of the sea because each car they sell has been driving its stock ever higher.

It Appears That China's EV Sales Peaked In June Of 2019
Tesla has an almost cult-like following but there is more to its story than that. You can also throw into the mix an article that appeared weeks ago about how China was forcing a recall of Tesla Model S and Model X vehicles. This indicates a "bump in the road" is forming between the company and the Chinese state. Then, on Christmas, Chinese company Pingwest released what can only be called a brutal expose about quality control and working conditions at Tesla's Shanghai factory.
The article titled "Giga-Sweatshop Meets Corporate Overlords: an Exclusive Look Into How Tesla China Runs its Shanghai Gigafactory 3." The piece lays out how quickly Tesla was able to set up shop and begin producing in China, and how it sent the company's stock price soaring up over"six-fold" in 2020. The piece then begins to poke holes in the idea Tesla is a picture of "blindingly quick efficiency." It claims behind-the-scene stories inside the non-stop Shanghai Gigafactory are much darker than people have been led to believe. It points to low "quality standards" and other problems at the plant.
Many people do not realize that while Tesla has dominated our EV market, as an American company it may have an uphill battle for market share in other countries even if it builds a plant there. The chart to the left is from the first eight months of 2019, it shows the Tesla Model 3 lagging far behind its domestic competition in the massive Chinese market. At that time, the BAIC EU-Series was the top-selling model.
The chart to the right paints a far brighter picture for Tesla but several factors skew its accuracy of predicting future sales.
These include Tesla's factory opening which has now been topped off by some of the bad press in China. Interestingly, again we see Tesla in China also shows signs of being addicted to end-of-quarter peak deliveries. In Q2, the Model 3 started slow (4,312 units in April), then picked up the pace in May (11,468), and ended the quarter with a bang, with 15,023 units registered.
This replicates Tesla's typical sales pattern in other places. This means the Tesla Model 3 dominated the scene in China during June almost tripling the deliveries of the surprise runner-up, the Baojun E-Series. Adding to the confusing numbers is the growth in this market was negative in June 2020, overall China was down 6% year over year with plugins doing much worse, down 53%. Muddying things even further is the fact June 2019 marked an all-time high for plugins in China, due to a sales boost from subsidies changes that occurred.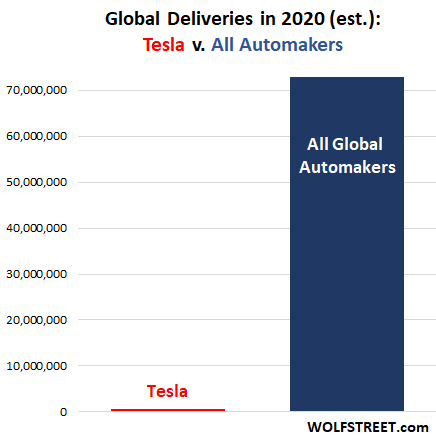 Three years ago few people thought Tesla would be the force it is today. Even less considered it would be trading at 1,458 times earnings. While I expect nothing written here or elsewhere will change the mindset of those bullish on Tesla, I echo the message of Wolfstreet.com, while almost 500,000 deliveries globally is a big number for Tesla, it constitutes only a fraction of the global auto market. In 2020 is estimated 73 million vehicles were delivered. This means Tesla's global market share in 2020 was just 0.7%. This screams that Tesla is massively overvalued.

It may be difficult for those caught in all the EV euphoria to remember the gasoline engine is not dead and not everyone desires a vehicle that is self-driving. Still, it is difficult to deny that Tesla has astounded investors and is the talk of the markets. With a market cap of 669 billion dollars Tesla's market cap is larger than the combined total market cap of Toyota (Toyota and Lexus), Volkswagen (VW, Audi, Porsche, and many other brands), Daimler, GM, BMW, Honda, Ford, and Fiat Chrysler. Each one of these companies manufactures far more vehicles than Tesla.
Circling back to Apple and whether it could rapidly become a force in the EV market and damage Tesla's position, this is something only time will reveal. After Apple reiterated its intent to move into this market, Bloomberg technology columnist Tim Culpan noted that Apple CEO Tim Cook's ability in delivering iPhones at scale bodes ill for Tesla. A wild card here is that Apple often contracts out much of its manufacturing. Apple becoming a force in the automotive market may be difficult to imagine but Tesla's success which made Elon Musk, its CEO and founder the second richest man in the world was also unlikely to the bulk of investors.